This is a break from the more issue-focused last couple of posts to talk about one of the more fun things I was able to get done this summer, see some great movies!
In total I was able to see 7 movies during the summer movie season: Avengers: Age of Ultron, Mad Max: Fury Road, Tomorrowland, Jurassic World, Inside Out, Ant-Man, and Mission: Impossible – Rogue Nation.  It's also worth noting that I tend to look at movies as a science fiction fan, and last year's best summer sci-fi movie was far and away Edge of Tomorrow. How do this summer's movies compare?
Genre: Superhero / Action
Director: Joss Whedon
Producer: Kevin Feige
Writer: Joss Whedon
Box Office: $1.4 billion
The second Avengers movie was Marvel's heavy hitter for this summer. I love Joss Whedon (hence the name of this blog), and he did a great job considering this movie had about 10 people in starring roles that have already appeared in other films  plus another 4 to 5 newer characters who will also have recurring roles in future films.  There is a lot riding on the fact that Avengers movies can weave over 10 character arcs from different films into a single story, and considering those constraints, the story was good, if necessarily spread a bit thin. The action and comedy were great though, and the movie is very entertaining.
As far as science fiction goes, almost all superhero films can count as some sort of sci-fi. But being mostly a big budget action movie, there are limits to how much those themes can be explored. There were a few interesting concepts brought up withe J.A.R.V.I.S. and Ultron as sentient A.I.'s but the movie did not really explore the full implication of those developments.  So while not hard science fiction, it is nice to see some elements in mainstream movies.
Age of Ultron is ultimately my 3rd or 4th favorite movie in Phase Two of the MCU, but its action, humor, and multi-character focus outperform the thin plot.
My Grade: B+
Harvard Grade: A
Genre: Post-Apocalyptic / Action
Director: George Miller
Producers: Doug Mitchell, George Miller, P. J. Voeten
Writers: George Miller, Brendan McCarthy, Nico Lathouris
Box Office: $374 million
Mad Max was not a movie I was expecting to see at the beginning of the summer, as I was unfamiliar with any of the previous films, but I ended up seeing it anyway after good reviews.  Wow. First off, the plot and storyline is not complex, and Max as a character isn't very deep, but almost everything else about this movie was excellent. The character of Furiosa was fascinating, and the undercurrent of strong female characters guiding the story was very well done without being an overpowering social condemnation.  And the action! The shots were beautiful, the stunts breathtaking, and visual effects magnificent and not glaringly obvious green screens.  The creativity and originality of the world meant that despite every action sequence being a car chase, I was never bored of seeing the next scene.
The post-apocalyptic sci-fi take was masterful. George Miller's world had all sorts of original ideas, and they really pushed the boundaries of what could be done in a big-budget action movie.  The society created, the technology used, even the religious zeal inspired by the antagonist Immortan Joe were all really cool elements which I hope to see more of.  And while technically this was a sequel, it's hard to find something as original as this today, and I'm glad it did well at the box office.
Overall, Mad Max: Fury Road is the best action movie I've seen this year.
My Grade: A
Harvard Grade: A+
Genre: Science Fiction / Mystery / Adventure
Director: Brad Bird
Producers: Brad Bird, Damon Lindelof, Jeffrey Chernov
Screenplay by: Damon Lindelof, Brad Bird
Box Office: $208 million
I was excited about Tomorrowland because director Brad Bird has previously done The Iron Giant, The Incredibles, Ratatouille, and Mission Impossible: Ghost Protocol. Tomorrowland is a great visual film, and we should applaud attempts at original stories. But once the mystery elements of the film peter out in the third act, the story is unfortunately not very compelling. I really enjoy the movie up until that point; George Clooney, Britt Robertson, and Raffey Cassidy are excellent, and Key from Key and Peele even shows up in a great cameo.
But the ultimate antagonist, David Nix, just sortof seems evil for the sake of having an evil character, and it's disappointing, because this movie had a lot of potential until the characters actually make it to Tomorrowland.  Overall, this was a missed opportunity for a good science fiction movie.
My grade: C+
Harvard Grade: A-
Genre: Science Fiction / Adventure
Director: Colin Trevorrow
Producers: Frank Marshall, Patrck Crowley
Screenplay: Rick Jaffa, Amanda Silver, Derek Connolly, Colin Trevorrow
Box Office: $1.624 billion
Jurassic World was a very entertaining film, and perhaps the best entry in the Jurassic Park franchise since the original film.  That said, this movie did well because it was the first solid movie since the revolutionary 1993 film, and not because Jurassic World has any revolutionary elements.  I want to be clear, there is very little wrong with this film! The action sequences are well done, the references to the old movies are great, Chris Pratt and Bryce Dallas Howard are exemplary in their roles, and the dinosaurs are awesome.  It just doesn't bring anything new. What we got was a film very similar to Jurassic Park, but updated with better visual effects, a larger scale, and the can-never-go-wrong Chris Pratt.
As a science fiction film then, Jurassic World is somewhat of a failure. While DNA modification and the concept of restoring dinosaurs to life are excellent science fiction ideas, they were already introduced to film in 1993! And I would hold that Jurassic Park did a much better job exploring those themes in relation to mankind's power over nature.
Nonetheless, Jurassic World, while not doing much new, is excellent at what it was made to be: watching Chris Pratt be awesome with dinosaurs.
My Grade: B+
Harvard Grade: A
Genre: Comedy / Drama / Adventure
Directors: Pete Doctor, Ronnie del Carmen
Producer: Jonas Rivera
Screenplay by: Pete Doctor, Meg LeFauve, Josh Cooley
Box Office: $701 million
Inside Out is one of the best movies to come out this year.  It's hilarious, emotionally moving, and accessible to anyone.  As a 3-D animated Pixar movie, it may look like it was meant for children, but adults get as much or even more out of it. The originality in the idea of showing the entire world inside Riley's brain was marvelously executed, and the animation generally was superb. This isn't much of a sci-fi film, but the fact that it's still one of the best movies I've seen this year shows just how great it is. If you didn't get a chance to see it in theaters make sure to check it out eventually.
My grade: A
Harvard grade: A+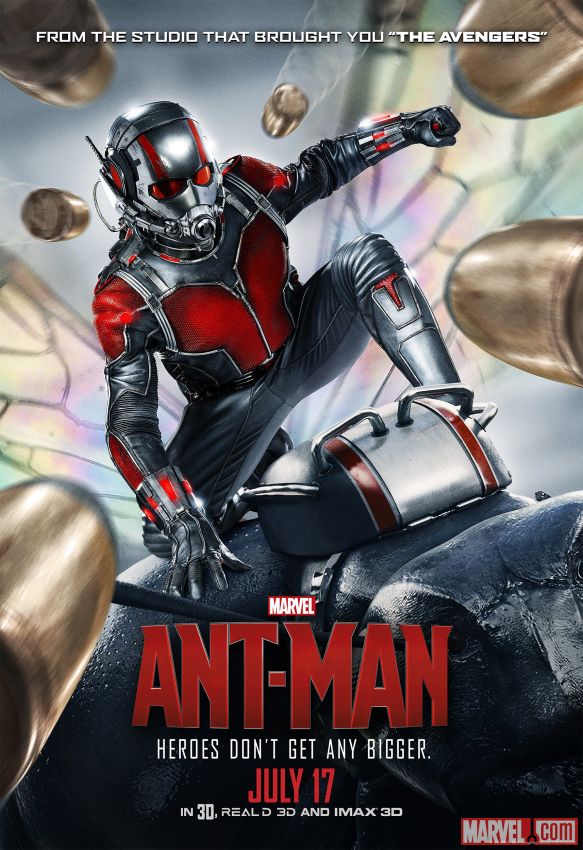 Genre: Superhero / Action
Director: Peyton Reed
Producer: Kevin Feige
Screenplay by: Edgar Wright, Joe Cornish, Adam McKay, Paul Rudd
Box Office: $363 million
Ant-Man, despite being the 12th installment in the Marvel Cinematic Universe, is a refreshing take on superheroes.  It does more by doing less, keeping the action on a small scale.  Ant-Man, at its core, is the story of Scott Lang trying to be a better person and reconnect with his family.  And as part of this, there is some poignant social commentary regarding the challenges ex-convicts face when integrating back into society. However, Ant-Man understands exactly what it is, and does not take itself too seriously.  Michael Peña's role was especially amusing, but Paul Rudd is hilarious as the title character and is incredibly easy to cheer for. Overall, the movie is fairly straightforward, but it delivers well on what you expect it to.
On the science fiction aspects: Marvel is definitely trying to set up future movies by mentioning the "quantum realm" in this movie. I'm not sure if they've sold me on it yet, but if they make a good movie based on it, I can get behind it.
My grade: B+
Harvard Grade: A
Genre: Action / Spy
Director: Christopher McQuarrie
Producers: J. J. Abrams, Bryan Burk, Tom Cruise, David Ellison, Dana Goldberg, Don Granger
Screenplay by: Christopher McQuarrie
Box Office: $446 million
Christopher McQuarrie was a writer for Edge of Tomorrow and The Usual Suspects and also directed Jack Reacher.  After watching Rogue Nation, I'm very excited to see what he does next, especially if it involves Tom Cruise. This movie is excellent, and probably the best in the Mission: Impossible franchise since the original movie.  The intrigue and complexity are well done, the stunts are amazing, and characters are excellent. Tom Cruise, Simon Pegg, Jeremy Renner, Rebecca Ferguson, Ving Rhames, everyone gave great performances.  The one drawback might be that the villain isn't incredibly memorable, but Rogue Nation is a highly entertaining and amusing entry in the Mission Impossible universe, and it's quite remarkable how consistently Tom Cruise can churn out solid film after film.
There aren't too many science fiction elements, but the technology imagined for guarding the secret military database was very impressive. Additionally, the fact that the Congressional oversight committee had basically no clue what the intelligence agencies were doing was a bitingly droll commentary.  Rogue Nation was perhaps the most accessible high quality action movie of the summer.
My Grade: A-
Harvard Grade: A
Those are all the films I was able to see this summer. Movies that I had high hopes for but I ended up skipping due to the horrible reviews include Self/less and, of course, Fantastic 4. Yikes.
This summer had some solid movies, and even one outstanding film I did not expect. But the next movie season is almost already upon us! Movies I am looking forward to in the fall season include: The Martian, Spectre, The Hunger Games: The Mockingjay – Part 2, and of course, Star Wars: The Force Awakens.  I really hope Star Wars is going to be a success.